The ACLU of Idaho is proud to share our 2023 Legislative Report & Scorecard.
READ THE INTERACTIVE DIGITAL VERSION ON ISSUU -- or view and download the PDF below.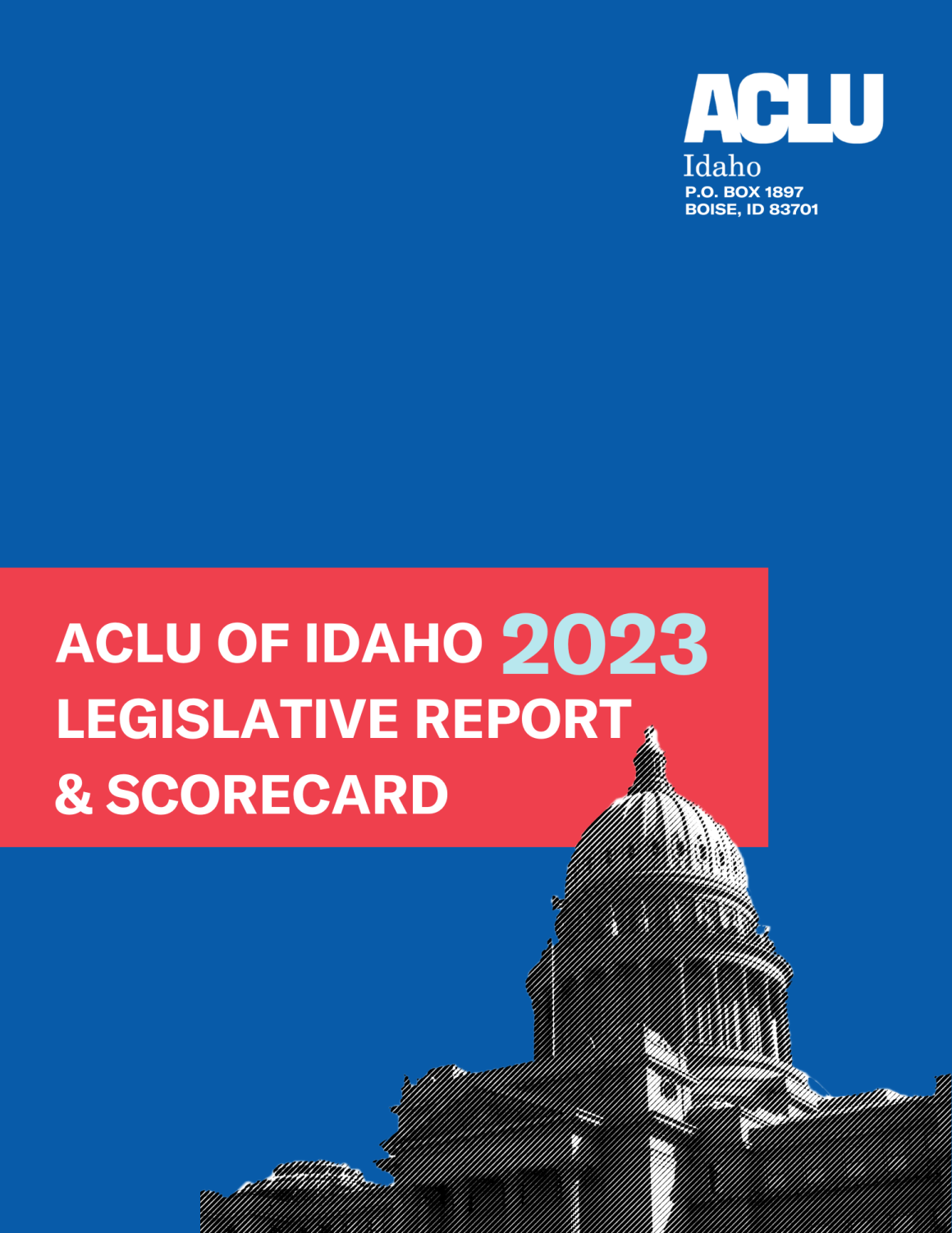 No sugar coating: 2023 was brutal for civil rights in Idaho. The legislature succeeded with hard pushes to diminish Idahoans' rights with a remarkable session:
We had nearly 40 new legislators and saw a shift in legislative committee leadership and membership, in both the House and Senate.
We saw around 100 bills attack Idahoans rights and freedoms around voting, healthcare, freedom of expression, and reproductive rights.
Idaho became only the second state, after Arkansas, to pass a total ban on gender affirming healthcare for youth. 
Despite these attacks, the ACLU of Idaho remained firm in our commitment to defending the constitutional rights and freedoms of all Idahoans. With the support of many community members, we pushed back:
We defeated a bill that targeted drag performers.
We won the veto of a senseless library censorship bill.
Despite real losses in Idahoans' voting rights, we preserved the right to cast an absentee ballot, use affidavits at the polls, and the right of Idahoans to create people-led policy ballot initiatives.
In the 2023 Legislative Scorecard & Report you'll find in-depth discussions on key ACLU legislative issue areas, and summaries of the highlights (and lowlights) from session. 
We hope you also learn about our legislative process, see how your elected officials voted on crucial ACLU policy areas, and feel energized to jump into work.
What is the Legislative Scorecard?
The ACLU of Idaho legislative scorecard documents the voting patterns of state senators and representatives during the 2023 Idaho Legislative Session. At a glance, you'll see how your legislators voted on issues like reproductive freedom, free speech, LGBTQ+ equality, reproductive freedom, and criminal legal reform. The votes presented in the Legislative Scorecard are those considered by either the full House or the full Senate. Some bills received votes from the full House but did not get out of committee to be voted on by the full Senate. This is why there are fewer bills listed on the Senate Scorecard.
Why is the scorecard created?
The Legislative Scorecard is a crucial accountability tool. We encourage you to use this scorecard to give your elected officials feedback on their votes during the 2023 Legislative Session. Direct communication with your elected officials is a valuable way to encourage them to protect our constitutional rights around the issues that are most important to you.