7.2.21
Butterfly Migration Project 2021 Report
What was the Butterfly Migration Project?
The Butterfly Migration Project was an idea sparked in 2020 during the attacks on DACA, calling to end that program. We wanted to think of a creative way to be in community while being mindful that we are still in a pandemic, which is how the Butterfly Migration Project was born. We had Idahoans create paper butterflies and write a brief explanation of what DACA is, where people could find more resources, facts about the DACA program, and words of support for our Dreamers. 
With the Biden administration bringing promises on immigration, we knew it was going to be a critical year to obtain a pathway to citizenship for ALL. Thus, the decision to make the Butterfly Migration Project a national effort.
Each butterfly created represented support for immigration reform. The butterflies were used to visually demonstrate nationwide support for our immigrant community and urge Congress to pass the U.S. Citizenship Act of 2021. The butterflies would also be used for a demonstration in Washington DC and later given to Congress members.
The Results:
The Butterfly Migration Project was a huge success. We want to thank everyone that took part in the project. Within a month of putting it together we had around 10,000 submissions from across the country. We even received butterflies from Canada, Mexico, and Germany. The success of this project was due to individuals all across the country that started mobilizing within their communities and families. This project was more than just creating a paper butterfly. This was about coming together to demand change for our undocumented community. This was a space where they could share their stories, their truths, hopes and dreams. That was the purpose of this project: to amplify the voices of people who often are silenced or told that their voices don't matter because of their status. 
Reading through the messages on the butterflies demonstrated how even though we might be living in different states, the experiences and emotions that our immigrant community faces are very similar. 
The butterflies were displayed during several events throughout the first week of May in Washington D.C. and we are grateful to have partnered with United We Dream and FIRM on the different actions that took place to continue to push Congress to pass immigration reform.
Events (*All events had COVID safety guidelines and masks were worn by ACLU staff and volunteers):
April 28, 2021 -- We marched the streets of Washington D.C. with United We Dream to hold the Biden administration accountable. The first 100 days passed and contrary to the promises that were made during Biden's campaign to have some type of reform/relief for our immigrant community, nothing has happened. We created a banner with some of the butterflies that were sent to us and spelt out #11 MILLION on it to show support for the 11 million undocumented individuals in this country.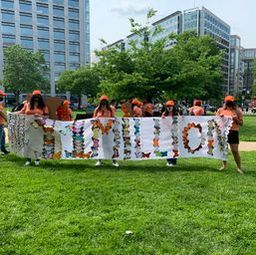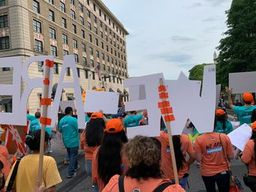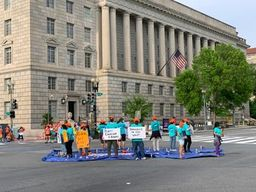 April 29th: We held a virtual open mic event to be in community and continued to carry the energy from the Butterfly Migration Project. This event was open for anyone to attend but we only gave space to our immigrant community to have the platform to share their stories through poems, spoken words, songs, etc.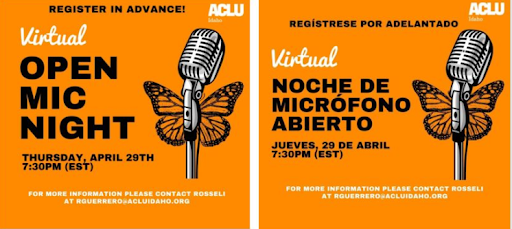 April 30th: We held a press conference where we partnered with FIRM. It took place in front of the Capitol building in an effort to urge Congress to pass immigration reform. Several organizations were a part of this press conference, including Episcopal Farmworker Ministry and CASA. We had our Advocacy Fellow, Rosseli Guerrero, speak during the press conference and our ACLU volunteer, Monica Carrillo, sing an original song about immigration.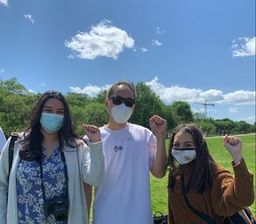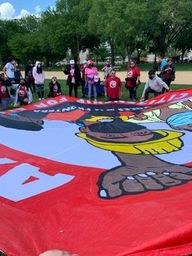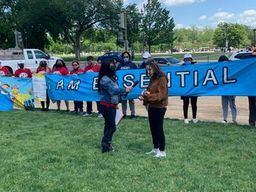 May 1st: May 1st is known as International Workers Day and is a day where our immigrant community and supporters hold marches and boycotts all over the country. On this day FIRM held a protest/march in which the ACLU of Idaho took part. We were able to again proudly display our "#11 MILLION" banner, and we created another banner that read "CITIZENSHIP." It was amazing to see individuals stop and take pictures and read the messages on the butterflies. We also taped several butterflies on sticks for people to hold during the march.
There were two starting points for the march, one was at Black Lives Matter Plaza and the other one at ICE headquarters, which is where our team began the March. We had our team speak and sing during the morning protest at the ICE headquarters and later we merged with the larger march. It was amazing to be in community and to be surrounded by people of all ages--all there for the same purpose: to urge our leaders to stop separating and deporting our families. And to give the 11 million undocumented individuals in this country the opportunity for a pathway to citizenship. It is long overdue. 
That same day our team attached several butterflies to a banner that was attached to the White House fence in order to demonstrate that we are holding them accountable for their promises. The fight continues until our immigrant community is treated with respect and dignity and where they can live without worry of being deported. The butterflies that were received will be mailed to members of Congress to continue to urge them to pass immigration reform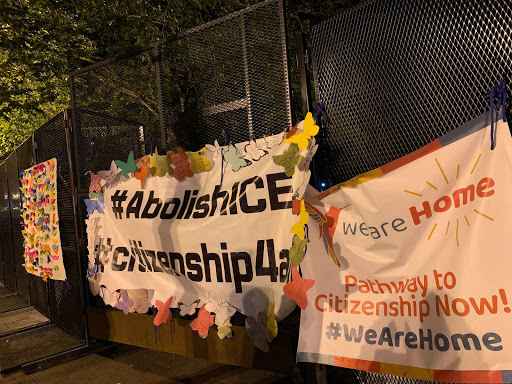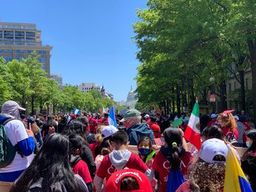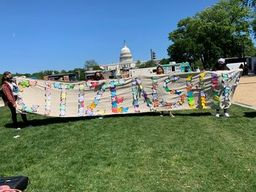 The butterflies we received will be mailed to members of Congress to continue to urge them to pass immigration reform.
What is next?
We will continue with the Butterfly Migration Project and continue to elevate the voices and stories of our immigrant community. Stay tuned!
For additional information or questions about the Butterfly Migration Project please email Rosseli Guerrero at rguerrero@acluidaho.org. Also, please share your butterflies on social media with the hashtag #ButterflyProject and tag ACLU of Idaho!